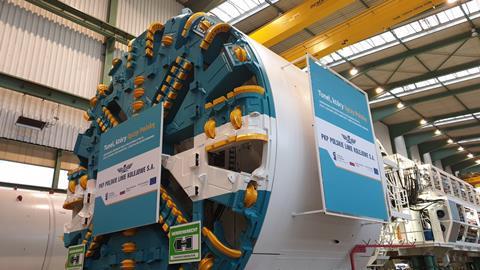 POLAND: Herrenknecht has completed the first of two tunnel boring machines that it is supplying to infrastructure manager PKP PLK for the Łódź cross-city tunnel project.
The 8·76 m diameter TBM is due to be shipped to Łódź later this month, and would be used to bore four single-track tunnels, totalling 4·5 km from Łódź Żabieniec in the north and Łódź Kaliska in the south to a junction with a double-track tunnel leading to Łódź Fabryczna.
The larger 3 km tunnel will be bored by a 13·04 m diameter TBM. Two new stations are to be built on this section, at Polesie and Śródmieście.
The tunnels will be as deep as 24 m underground. The TBMs can bore up to 10 m a day, and the work is expected to be finished by the end of 2021. The EU is providing 1·43bn złoty towards the 1·76bn złoty project.
In December 2017 PKP PLK signed a contract for the works with a consortium of Energopol Szczecin and PBDiM Mińsk Mazowiecki. Last month the consortium changed its leader, owing to financial problems at Energopol.