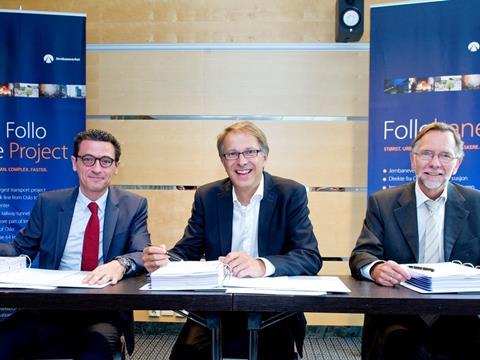 NORWAY: Obrascón Huarte Lain of Spain has signed a contract worth NKr2·3bn with infrastructure manager Jernbaneverket, under which OHL is to build the Langhus – Ski section of the Follo Line as well as a major public transport interchange at Ski. OHL is due to begin work immediately.
According to OHL, over the 3·5 km between the southern portal of the Follo Line tunnel and Ski there will be six tracks, comprising two for high speed services, the existing double-track route which is to be upgraded and two connecting tracks. Ski station is to be entirely rebuilt with six tracks and three island platforms. A new bus terminal is to be provided and the existing car park extended.
This is the third of six engineering, procurement and construction contracts to be awarded for the Follo Line, which is 'currently the largest infrastructure project in Norway', according to JBV. The 22 km high speed line between Oslo Central and Ski, running largely in tunnel, is scheduled for completion at the end of 2021. The infrastructure manager reports that the final preparatory work should be finished in September.
'OHL has become our third main partner to make this mega-project a success', said JBV Project Director Erik Smith. Noting the contractor's experience of high speed line construction elsewhere in Europe, he added that it was 'a pleasure to welcome the company to Norway'.