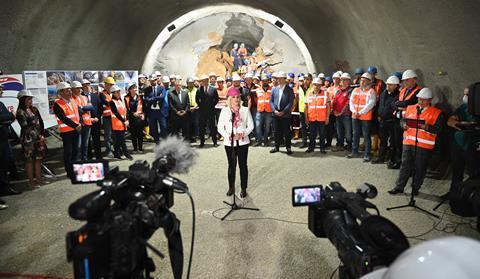 SERBIA: Drilling of the 1 156 m long second bore of the Čortanovci tunnel was completed with a breakthrough ceremony on June 5. The 1 086 m first bore had been holed through on April 3.
Under construction since August 2017, the Čortanovci tunnel and an adjacent 2 913 m double-track viaduct will form the centrepiece of a major reconstruction and realignment of the 40.5 km Stara Pazova – Novi Sad section of the Beograd – Subotica – Kelebia main line. The US$337·6m project is being undertaken by RZD International and financed through a Russian loan.
Services over the line were suspended last year and are not expected to resume until 2022.
Read more about RZD International's work in Serbia in the July 2019 issue of Railway Gazette International magazine.