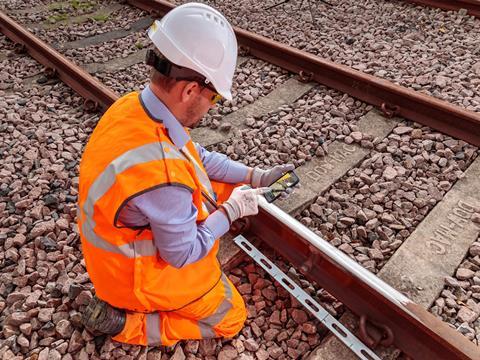 WELDING: Pandrol has released the Pandrol Connect app for Android devices which enables live data capture during the aluminothermic welding of rails, saving time on data entry and improving traceability.
This is intended to help infrastructure manager identify defects and assist with cost optimisation by identifying anomalies in weld performance.
The app has three modules:
a mobile version to record onsite data for welding controllers;
a monitoring module to review weld information from the office;
an online administration tool to apply settings to local standards.
All data is stored in the cloud for easy sharing to authorised viewers at contractors and the infrastructure manager.
'This is an important innovation in welding technology, which will mean greater traceability to support contractors and rail network operators', said Thibaut Descamps, Director for aluminothermic welding at Pandrol. 'The app saves a significant amount of time on manual form completion and provides instantly accessible information on each weld at the touch of a button.'