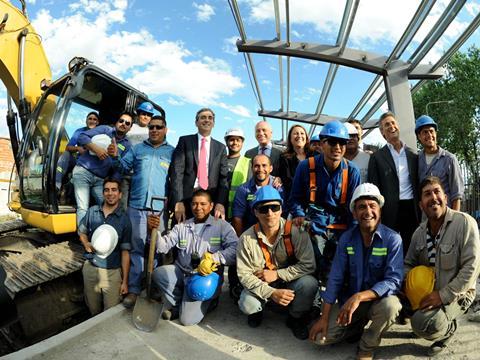 ARGENTINA: Minister of the Interior & Transport Florencio Randazzo visited the city of Rosario in Santa Fe province on October 30 to inspect progress with infrastructure works being undertaken to reintroduce passenger services to Buenos Aires next year. As well as 517 km of track renewals, the programme has involved the construction of a new station in Rosario, the first stage of which is due to be completed on December 15.
Randazzo said that 80% of infrastructure work had already been completed, which would enable the federal government to meet its commitment to restoring passenger services between Buenos Aires and Rosario during the first quarter of 2015. 'We are making record progress in track renewals as well as the construction of this new railway station', he said.
Services will be operated with diesel locomotives and passenger cars delivered in 2013 by CNR of China. The new fleet would enable a 'quality service' to be provided at fares lower than those currently charged by coach operators, said Randazzo.