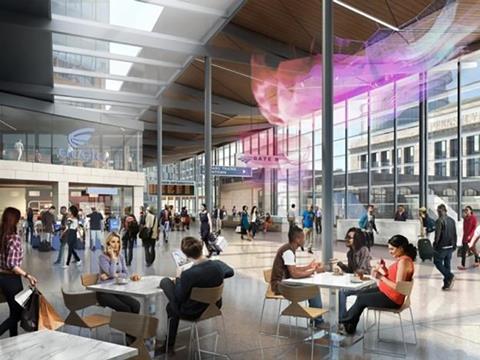 USA: Amtrak has selected Penn Station Partners to undertake the redevelopment of Baltimore Penn station and neighbouring properties which it owns.
Penn Station Partners comprises Beatty Development Group, Armada Hoffler Properties, Cross Street Partners, Gensler, WSP USA, Network Rail Consulting, Mace Group, JLL, HR&A Advisors, Charles Belfoure, Cho Benn Holback, Stifel, Nicolaus & Co, RK&K and Younts Design.
The project aims to expand the station's facilities to accommodate growth, renovate the upper floors and support transit-oriented development. Preliminary concepts include a hotel in the historic station building, as well as office and residential space to the north along Lanvale Street connected by an expanded concourse with new retail outlets.
'This development is a historic opportunity for Amtrak and Penn Station Partners to bring to life a bold future for Penn Station, generating jobs and sustained economic opportunities', said Mayor Catherine Pugh.
'Baltimore Penn is the eighth busiest station in our national network and this important step underscores Amtrak's continued efforts to significantly enhance the station experience and amenities for all travellers', said Bart Bush, Amtrak Vice-President of Real Estate, Stations & Facilities, on December 14.