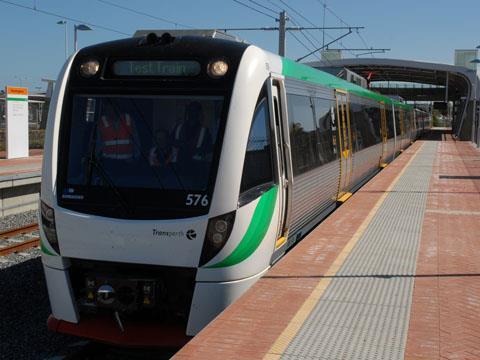 AUSTRALIA: Detailed proposals for an 8·5 km rail link to serve Perth Airport and the city's 'eastern foothills' suburbs were announced by the Premier of Western Australia Colin Barnett on August 11, following the endorsement of the A$2·2bn scheme by the state cabinet.
The line would will diverge from Transperth's existing Midland Line near Bayswater station and run for 8 km in twin-bore tunnels, initially paralleling the Tonkin Highway and passing beneath the Swan River to reach the airport. It would then continue in tunnel under the airport before emerging to terminate at a new bus-rail interchange at Forrestfield.
Intermediate stations are to be provided at Belmont (Airport West), near the present domestic terminal, and under the Consolidated Airport serving the current international terminal. Feeder bus services from Forrestfield will serve the suburbs of Wattle Grove, Maida Vale and High Wycombe. Journey time for the 16 km trip between Forrestfield and the city centre is expected to be around 20 min.
The government believes that building the branch almost entirely in tunnel will enable it to be completed 'in the most timely fashion' while minimising disruption to residents, businesses, traffic and airport operations.
According to Transport Minister Dean Nalder, the Project Definition Plan is to be released later this month for public consultation and discussions with local authorities before tenders are called for construction of the line. Construction is expected to start in 2016 for completion in 2020. The airport branch is projected to add around 20 000 extra boardings on the Transperth network each day in 2021, rising to almost 30 000 by 2030.
'The Forrestfield-Airport Link represents a real game changer in terms of public transport in this city', said Barnett. 'It is a key infrastructure project that furthers the long-term strategic interests of the city by opening up Perth's eastern suburbs, which in the short term will also create hundreds of construction and engineering jobs.
'The rail link will bring enormous benefits to airport passengers and staff working at the airport. In particular, this will be a boon for Western Australia's thousands of fly-in fly-out workers.'