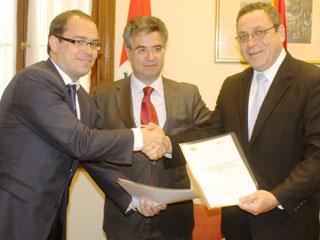 PERU: A feasibility study for a new railway to carry freight and passenger traffic between Piura and Lambayeque is due to be completed by the end of this year, according to José Antonio Sebastián, Managing Director of the International business at Spanish metre-gauge operator FEVE.
On July 19 at the Spanish embassy in Lima, Sebastián signed a framework co-operation agreement with Javier Atkins Lerggios, President of the Piura regional government.
'It is very pleasing for me to sign this co-operation agreement which will enable us to have a modern transport system that will benefit thousands of our fellow countrymen', said Atkins Lerggios. The new railway would 'enable the producers of Alto Piura and Olmos to move their products in an efficient and sustainable way', he added, 'saving time and lowering costs'.
Separately, FEVE has also signed a co-operation agreement with Peru's Ministry of Energy & Mines, under which it will provide technical assistance for freight railway construction and upgrading projects.