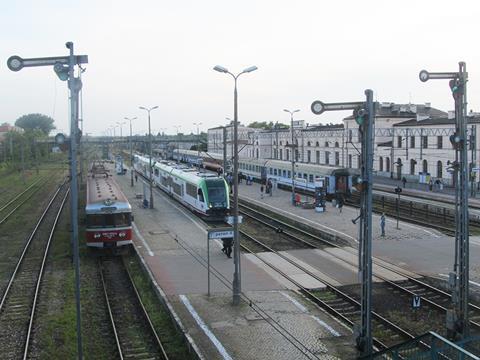 POLAND: The European Investment Bank has agreed a €175m loan to infrastructure manager PKP PLK to fund modernisation of the 106 km Sadowne – Czyżew – Bialystok route, which will connect to the standard gauge line through the Baltic States which is being developed under the Rail Baltica project.
'This is a project with a European dimension and a strong climate action focus', said Vazil Hudák, EIB Vice-President responsible for Poland, on December 16. 'It will result in better quality and higher use of passenger rail services and freight transport, generating significant energy savings and reductions in harmful emissions.'
A double-track bridge will be built over the River Bug, while a second track between Prostyń Bug and Małkinia will eliminate the only single-track section of the Warszawa – Białystok route. As well as increasing capacity, the modernisation will allow freight trains to run at 120 km/h and passenger trains at 160 km/h, shortening the journey between the capital and Białystok from 2 h 26 min to under 2 h.
Platforms will be modernised at 16 stations, with subways, improved passenger information systems and facilities for persons with reduced mobility.