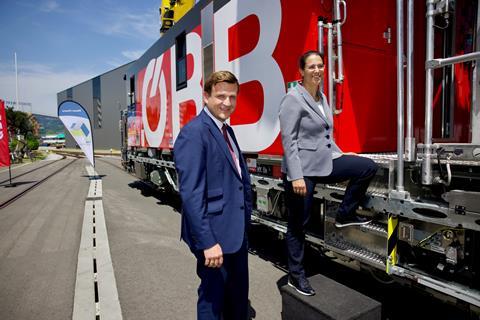 AUSTRIA: The first of 56 electric-battery modular maintenance vehicles ordered by Austrian Federal Railways has been unveiled at Plasser & Theurer's factory in Linz.
The €250m order covers 29 CatenaryCrafter 15.4 E3 vehicles of two types for overhead electrification works, 21 MultiCrafter vehicles for track works, and six TransportUnits for moving equipment for tasks such as tunnel cleaning.
The vehicles are powered by the 15 kV 16·7 Hz overhead or from their onboard batteries. They have a maximum speed of 120 km/h when traveling between worksites, and are equipped with ETCS.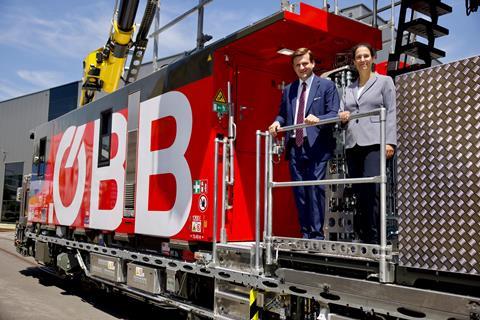 The modular design means individual assemblies can be rapidly swapped in and out, reducing downtime.
There is an option for a further 46 vehicles.
The fleet will replace existing vehicles also supplied by Plasser & Theurer which are now up to 40 years old.
'The new fleet represents the largest single order in the 70-year history of Plasser & Theurer', said the manufacturer's CEO Johannes Max-Theurer at the unveiling on June 1. 'We are particularly pleased with the decision that all the vehicles will have our E³ technology, further strengthening rail as the most sustainable transport system.'
ÖBB-Infrastruktur board member Judith Engel said the machines 'are an essential tool for the maintenance of overhead lines, track and superstructure', and 'also play an important role in the construction of overhead lines, during inspections or for rapid intervention in the event of a fault'.
She said 'the new fleet runs with an electric drive instead of diesel, the modular design brings flexibility and a significant increase in operational readiness. That helps both the economy and the quality of our rail network.'