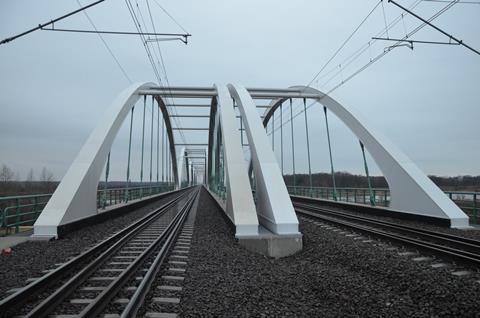 POLAND: Infrastructure manager PKP PLK has selected a Polish-Chinese consortium comprising Intercor, Stecol Corp and Sinohydro Corp for a 4·14bn złoty contract to modernise the 71 km line between Czyżew and Białystok.
This forms part of the corridor from Warszawa to the Lithuanian border, which is being modernised to connect with the future Rail Baltica 1 435 mm gauge line through the Baltic States.
The upgrading contract announced on December 27 is expected to be signed during the first quarter of 2020, with the work scheduled for completion within 37 months.
The project which is being co-financed by the EU's Connecting Europe Facility will raise the maximum speed on this section of the corridor to 200 km/h, significantly reducing the fastest Warszawa – Białystok journey time.
A 560m złoty modernisation of the 38·9 km Sadowne Węgrowskie – Czyżew section of the corridor was completed on December 30. A second track has been provided across the River Bug, removing a critical bottleneck, the line speed has been raised to 160 km/h and the stations at Prostyń, Małkinia, Zaręby Kościelne, Kietlanka and Szulborze Wielkie modernised. A road bridge over the line at Małkinia is to be built this year.