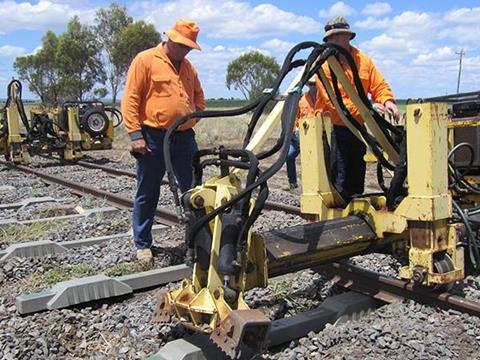 AUSTRALIA: The University of Southern Queensland has formed a partnership with Austrak and Laing O'Rourke to develop and deploy fibre-reinforced polymer composite materials as an alternative to timber in sleepers and bridge transoms. The A$10m project has been backed by an A$3m grant from the government's Co-operative Research Centre – Projects, under an initiative to increase innovation in Australian industry.
The partnership will build on 20 years of research at USQ into sleeper and transom designs based on polymer composite materials, and support the commercialisation of the technology.
According to USQ, up to 90% of existing timber sleepers and bridge transoms in Australia are expected to need replacement in the next 10 years, as part of a global market estimated at more than A$1·3bn per year. Infrastructure owners are increasingly looking to move from traditional timber materials, which can have a life span of as little as 15 years before warping and rotting. Engineered composites which comply with the relevant strength and stiffness requirements are expected to last for up to 50 years.
Announcing the partnership agreement on October 8, USQ Professor Peter Schubel said it was 'extremely rewarding' to see the culmination of so many years of research, with 'a successful collaboration that will bring a step-change technology to an otherwise conservative sector. By working directly with Austrak and Laing O'Rourke, we can ensure the technology is delivered at the right cost point and commercialised to its full potential.'
Austrak General Manager Murray Adams said 'we foresee a large demand for innovative technology to replace the traditional bridge transoms in the near future and as the largest railway sleeper producer in Australia, we're responding to the rail sector's need for alternative materials. Through the CRC-P programme and in partnership with USQ and Laing O'Rourke, we would like to improve our understanding of composite technology, so that better designs can be developed to reduce the overall costs of composite transom decks and beams to the point where it is commercially viable.'