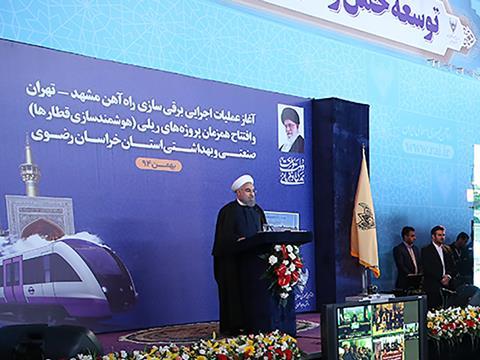 IRAN: President Hassan Rouhani ceremonially launched work to electrify the 926 km Tehran – Mashhad main line when he visited the northeastern city on February 6.
Planning for the 25 kV 50 Hz electrification project has been underway since 2012. In June 2014 a contract to install and maintain overhead electrification equipment and procure 70 locomotives was awarded to a consortium of Chinese companies CMC and SU Power and subsidiaries of local industrial group MAPNA. A year later Iran and China finalised an agreement for 85% of the €1·9bn cost of the project to be financed through Chinese loans.
Signalling on the route has recently been upgraded under a three-year project undertaken by domestic companies at cost of €32m.
The electrification work is scheduled to take 42 months, and on completion is expected reduce the passenger journey times from 12 h to 6 h and increase freight capacity to 10 million tonnes/year.
Speaking at the launch ceremony, Rouhani said the development of the rail network is an important goal for government. 'Railway development will bring a healthy environment, mental and spiritual tranquillity, inexpensive transport, fuel economy and the enjoyment of short trips for the people of Iran', he said.
Rouhani said there should be rail links to all of Iran's main ports and to neighbouring countries. 'Islamic Republic of Iran Railways will be connected to Azerbaijan and Iraq in the near future', he said, adding that a long-planned link from Khorramshahr to Iraq would open in time for the next annual pilgrimage in November 2016. 'By connecting the railway to Basra in Iraq, we hope that our dear people and pilgrims of Imam Hussein can visit his tomb on next Arba'een'.