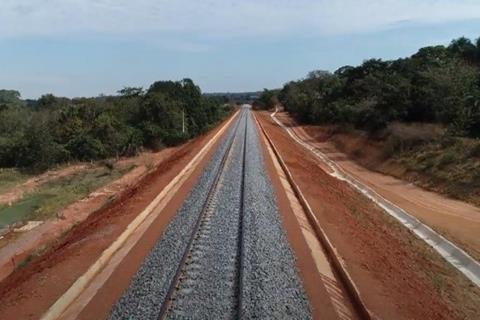 BRAZIL: At 10.30 on June 16 President Luiz Inácio Lula da Silva was due to have taken part in ceremonies marking completion of Ferrovia Norte-Sul at Rumo's Rio Verde rail terminal in the state of Goiás. Also scheduled to be at the event were Minister for Transport Renan Filho and representatives from federal and state authorities.
Unfortunately, poor weather conditions meant that the Presidential helicopter would not have been able to land at Rio Verde and Lula was unable to leave Brasilia. A formal inauguration event at which the President will be present is to be rescheduled for a future date.
The last rails on the section between Palmeiras de Goiás and Goianira had been connected on May 25, completing a through 1 600 mm gauge route from the port of Itaqui and Açailândia on the Estrado de Ferro Carajás to São Paulo and the port of Santos. FNS runs for a distance of 2 257 km and the project is estimated to have cost nearly R$142bn.
The final stages of work included construction of freight terminals for Rumo at Rio Verde and São Simão in Goiás and Iturama in Minas Gerais at a cost of around R$4bn. Work on bridges over the Rio Grande and the Paranaíba River was completed in 2022.
Construction of FNS began in 1986 but little progress was made initially. Only in 2003 did the project begin to take off, gaining momentum four years later, when the government's Programa de Aceleraçao do Crescimento (Growth Acceleration Programme) was implemented.
The penultimate section to be completed ran for 172 km from São Simão in Goiás state to Estrela d'Oeste in Såo Paulo state; this was opened in March 2021 by former Brazilian President Jair Bolsonaro.
The section from Açailândia to Porto Nacional is operated as a concession by VLI Logística while the southern section covering 1 537 route-km is operated by Rumo under its Malha Central concession signed in July 2019. Rumo has rights to operate to Itaqui and to Santos.
The Brazilian government said that completion of the railway would ensure that the states of Goiás, Mato Grosso and Minas Gerais would benefit thanks to the facility to export commodities such as soy, corn and cotton from ports in the north and south. The project 'favours multimodality and the interconnectivity of the rail network, encourages investments to increase production and industrialisation, in addition to reducing logistical costs and the emission of pollutants', a statement said.
Speaking to local radio stations on June 15, President Lula said that the railway 'took 30 years, but it's finally ready. I'm very happy.'
Rumo President Beto Abreu told Brazilian media that the Anápolis region served by the new line offers 'many opportunities for general cargo'. Noting that about 45 000 containers a year are currently moved by road from Goiás to Santos, he said there were opportunities for rail to carry fertilisers, fuel, grain, ore and general cargo.
In 2022 the completed sections of the line carried around 7∙8 million tonnes of soy, corn and bran.