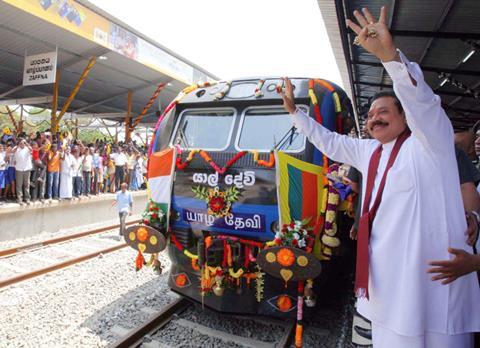 SRI LANKA: The final section of line reconnecting the Jaffna peninsula in the north with the rest of the rail network was formally opened by President Mahinda Rajapaksa on October 13. The 38 km Pallai – Jaffna link restores what was one of Sri Lanka Railways' most important routes before its disruption by war in 1990.
Guests at the reopening celebrations included Yashvardhan Kumar Sinha, High Commissioner of India which funded the US$800m project with a soft loan. Construction was undertaken by IRCON International, which installed concrete sleepers and welded rail suitable for speeds up to 120 km/h.
Jaffna station is being reconstructed by Sri Lanka Railways with the assistance of Bank of Ceylon, and will have 'modern facilities while preserving its ancient architecture'.
The journey time for the 400 km Jaffna – Colombo overnight service is about 6 h. There will be an initial service of four passenger trains/day, plus freight traffic which is expected to include perishable and manufactured goods, petroleum products and cement.