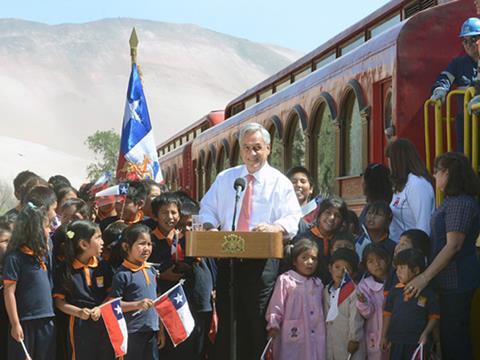 CHILE: President Sebastián Piñera visited the Chilean section of the Arica – La Paz Railway on May 13, travelling the 40 km from Arica to Poconchile accompanied by Transport & Telecommunications Minister Pedro Pablo Errázuriz and other dignitaries.
'Today is a day of great historical significance', said Piñera, 'because 100 years after the inauguration of the railway from Arica to La Paz we are today opening the line once again'. It was a cause of great satisfaction to be able to demonstrate to the people of Chile, Bolivia 'and the whole world' that the railway opened in 1913 was today 'completely operational'.
Running 440 km from the port of Arica to the Bolivian capital La Paz, the railway was built by Chile under a peace treaty between the two countries signed in 1904, following the loss of the Bolivian coastline to Chile during the War of the Pacific in 1879. Access to the Pacific remains an issue for landlocked Bolivia, which on April 24 had instituted proceedings before the International Court of Justice in Den Haag, asserting that Chile had failed to perform its obligation 'to grant Bolivia a fully sovereign access to the Pacific Ocean'.