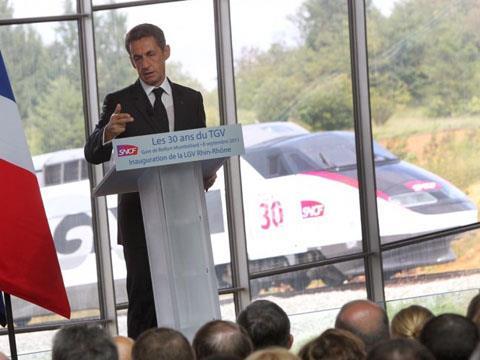 FRANCE: President Nicolas Sarkozy inaugurated the first 140 km section of LGV Rhin-Rhône between Villiers-les-Pots and Petit-Croix on September 8, cutting a ribbon at the new TGV station outside Besançon to mark the formal opening of the high speed line. He then travelled to Belfort-Montbéliard TGV, where a rolling stock display marked the 30th anniversary of the opening of France's first high speed line.
For RFF President Hubert du Mesnil, Sarkozy's presence at the opening ceremony bore witness to 'the strategic importance of this line in the French and European railway landscape'. He said it was matter of great pride 'for the teams who have built this line and in particular those at RFF'.
Following three months of commissioning trials that have seen a specially-equipped test train cover over 60 000 km, commercial services are due to start on December 11, running at up to 320 km/h on France's first inter-regional high speed route. Extensions from Villiers-les-Pots to Genlis (15 km) and from Petit-Croix to Lutterbach (35 km) are planned to complete the 190 km eastern branch of LGV Rhin-Rhône between Dijon and Mulhouse, although funding for this second phase has yet to be agreed.
The Phase 1 funding package amounts to €2∙31bn, including €751m provided by the French government, €642m from RFF and a total of €653m provided by the regions of Alsace, Bourgogne and Franche-Comté. The European Union has contributed €200m and the Swiss Confederation €66m, as the opening of LGV Rhin-Rhône will see the Zürich – Dijon journey time cut from 4 h 30 min to 2 h 25 min, accelerating services between Paris and Switzerland.
Next spring SNCF and DB are planning to launch a daily Frankfurt – Lyon – Marseille service, while a daily service between Basel and the south of France is planned from December 2012. SNCF has ordered 30 Euro Duplex trainsets equipped to operate in Germany and Switzerland as well as into Spain, while a fleet of 60 refurbished Sud-Est trainsets is to be deployed on Rhin-Rhône domestic services by 2015. The French national operator has invested a total of €1∙2bn in the project, including the new stations at Besançon and Belfort and rolling stock maintenance facilities in Lyon, Mulhouse and Strasbourg.