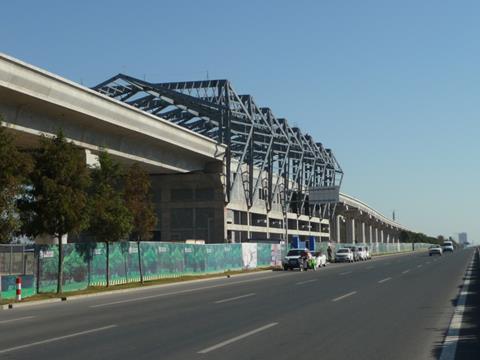 CHINA: An isolated regional metro line was opened in the eastern port city of Qingdao on December 26. Designated Line 13, but originally known as R3, the Jiaonan line is currently not connected to the rest of the city's metro network.
Starting from Jinggangshan Lu in the Huangdao port district on the opposite side of Jiaozhou Bay from the city centre, the 66·8 km Line 13 runs southwest along the coast to Dongjiakou station on the Qingdao – Yangcheng line which opened the same day.
Designed for operation at up to 120 km/h, the line includes 14·3 km underground and 54·5 km on viaduct, There are 21 stations in total, of which seven are underground. All stations are fitted with platform screen doors, in common with the city's other metro lines. End-to-end journey time is 72 min.
Line 13 is operated by a fleet of 21 Type B1 four-car trainsets, of which 18 are needed for revenue operation at peak times, when the average headway is 7 min 20 sec. The 80·6 m long trains are designed to carry up to 828 passengers.
A two-station northeastern extension is envisaged, which would continue the line in tunnel from Jinggangshan Lu to Jialingjiang Lu, serving Qingdao Binhai University.
Line 13 is expected to be connected to the rest of the network with the planned opening of Line 1 in 2020. Starting near the university, this line would run northeast under Jiaozhou Bay to the city centre.