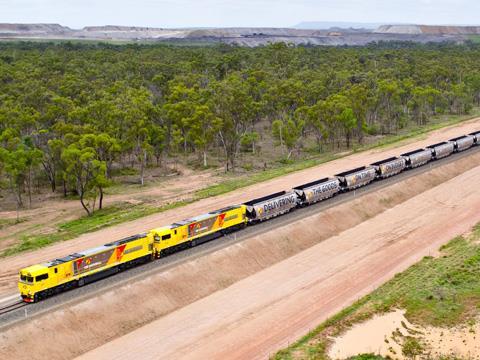 AUSTRALIA: Acting Premier of Queensland Andrew Fraser opened the 69 km Northern Missing Link connecting QR National's Goonyella and Newlands coal railway networks on December 19.
Providing a route from mines in the Bowen Basin to the Abbot Point export terminal, the link is the central component of QR National's A$1·1bn Goonyella to Abbot Point Project. QR National aims to increase the Central Queensland Coal Network's export capacity by 50 million tonnes/year, to reach more than 300 million tonnes/year by 2015.
'GAP is a genuine transformational project', QR National Managing Director & CEO Lance Hockridge said at the opening ceremony, adding that it 'had been on Queensland's infrastructure wish-list for over three decades.'
Construction of the link began in May 2010 was completed ahead of the scheduled 20 months, despite exceptional weather, fire and a small earthquake. The 69 km line has three passing loops, 11 bridges and two road overbridges.
'Now that QR National is a publicly listed company it has the ability to make this type of investment that benefits all Queenslanders, without taxpayers having to foot the bill', said Fraser. 'Private sector investment in the State's rail infrastructure is a huge vote of confidence in the long-term viability of Queensland's resources sector'.
Further work on GAP will continue until mid-2012, including additional works on the Briaba section and upgrades to existing track on the Newlands line to accommodate larger 106 tonne wagon
Northern Missing Link
Length
69 km
Gauge
1 067 mm
Cost
A$385m
Civil works
CoalConnect: QR National, Leighton Contractors, GHD and KBR
Signalling
Synergy alliance: QR National, UGL and Ansaldo STS
Railway systems
QR National