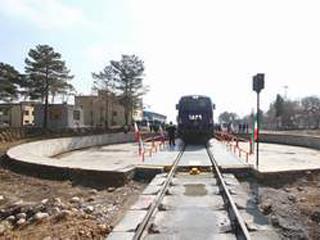 IRAN: It is not often that we receive reports about the commissioning of new turntables, but on February 29 one was formally inaugurated at Mashhad by Mohammad Hadi Ziari, President & Director-General of national railway RAI.
In the past, single-ended diesel locomotives had been turned at Mashhad using a triangle. However, this time-consuming process blocked the main lines and interrupted shunting operations. The turntable is expected to reduce the time needed from 30 min to 5 min.
Rated to carry loads up to 250 tonnes, the 30 m diameter turntable has a maximum speed of 8 rev/min. Work on the project began in June 2011, with installation undertaken by private contractors under the supervision of RAI's Technical Department.