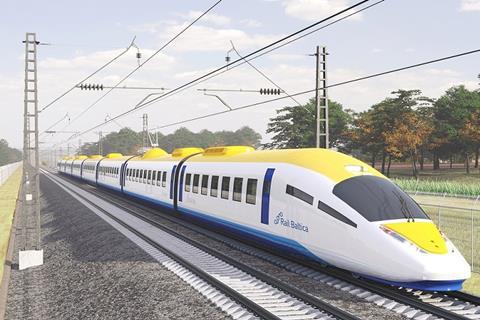 EUROPE: Rail Baltica project promoter RB Rail has begun procurement of the electrification systems for the future standard gauge line between Poland, Lithuania, Latvia and Estonia, saying it will be the largest railway electrification scheme in Europe to be implemented as a single project.
The energy subsystem contract covers 870 km of double track line from the Polish border to Tallinn including the line from Kaunas to Vilnius, and includes design and construction of substations, connections to the public high voltage grids, control systems and more than 2 000 track-km of overhead equipment.
The two-stage procurement process is scheduled to be completed by the end of 2023.
'This is the first time when procurement of such scope and scale is organised across three countries in Europe with a goal to provide single electrification system with the same operational and maintenance rules and interoperability requirements across several countries', said Jean-Marc Bedmar, Head of Systems & Operation department at RB Rail, on June 1.
'Strong conditions regarding minimisation of environmental impact are integral part of Rail Baltica electrification', said Bedmar. 'For example, the energy efficiency of the overall traction chain will be more that 85%, and the lifetime of components will be 50 years or more.'
Chief Technical Officer Marc-Philippe El Beze said 'in the present geopolitical situation, joining forces is more important than ever. And this procurement is a proof of maturity of both the Rail Baltica project, and also EU policies for cross-border strategic project delivery.'