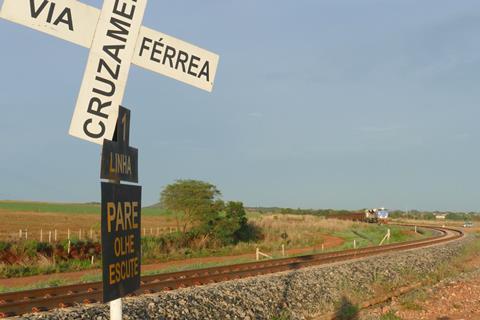 BRAZIL: International bids have been called for feasibility studies covering the construction of long-planned new lines in the states of Paraná and Mato Grosso do Sul. Bids are due to be submitted by October 14.
Consultants would be asked to examine the potential route and alignment of the new lines, as well as to determine economic, environmental and legal requirements. Funding for the studies is to be provided by the Inter-American Development Bank through the national government's Department of Highways.
One project covers construction of the 135 km line from the current railhead at Cascavel to the border with Argentina and Paraguay at Foz do Iguaçu. The other concerns the planned line from Cascavel to Guaíra, Dourados and Maracaju, where it would meet the line operated by Rumo from Campo Grande to Ponta Porã on the Paraguayan border. Construction of the first part of the line from Cascavel to the crossing of the River Paraná at Guaíra began more than 10 years ago, but work was never completed.
The decision to reactivate the new line plans comes amid renewed interest in rail investment in southern Brazil. On August 26 Paraná state government announced a 'railway infrastructure package' worth R$40m covering plans to upgrade and expand the existing network; this formed part of a R$350m 'bank of executive projects' for roads and public safety works.
Also during August, Governor of Paraná state Carlos Massa Ratinho Junior and representatives from the Secretariat of Infrastructure & Logistics presented proposals to the China Merchants group about rail projects in the 1 200 km corridor from Paranaguá to Dourados; China Merchants Port Holdings purchased a 90% stake in the operator of the container terminal at Paranaguá two years ago.