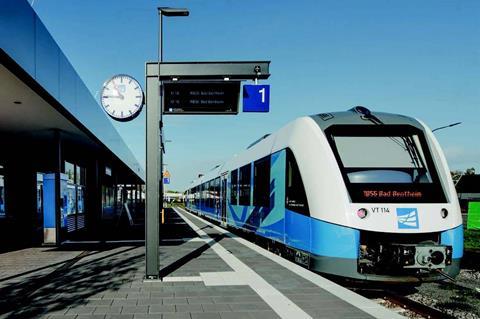 GERMANY: Infrastructure manager DB Netz has identified 20 lines totalling 245 route-km which it intends to reactivate for both freight and passenger services by 2030 as part of an initiative to provide environmentally friendly transport alternatives.
'With the Länder and organising authorities we are bringing new life to disused lines', said DB Netz Board Member for Infrastructure Planning & Projects Jens Bergmann on June 22, at an event in Berlin hosted jointly with the Association of German Transport Companies (VDV) and rail lobby group Allianz pro Schiene.
Last year, the two organisations published a list of 238 lines totalling 4 016 km which they believed should be reopened, noting that these would serve 291 towns and a population of around 3 million people.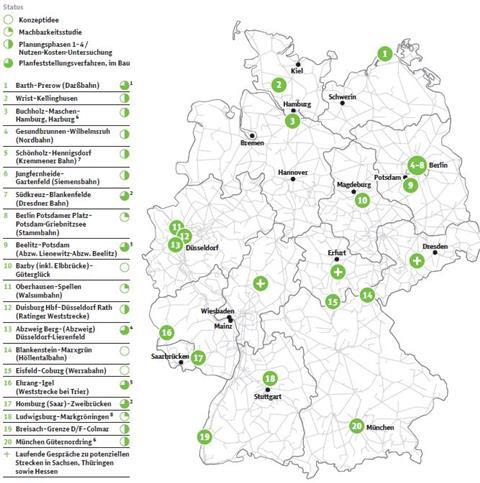 DB Netz spent several months analysing an initial batch of routes totalling around 1 300 km for which it believed there was 'a clear potential'. An assessment of the costs and benefits confirmed that reopening would be worthwhile in the majority of cases.
The infrastructure manager has been working with the federal government, the Länder and local transport authorities to evaluate the various routes, as well as providing advice to inform feasibility studies and planning strategies. The work also covers the revitalisation of non-DB lines, which accounted for almost two thirds of the first tranche of routes.
'We are initially tackling 20 lines across the country, with more to follow in the coming years', Bergmann confirmed. 'We want to attract more people to the railway, and get more freight onto the tracks. Every km of track is active climate protection.'
VDV's Managing Director for Rail Martin Henke welcomed DB AG's 'historic decision 'to take a step back into the rail market after decades of retreat'. Although the federal government had created good conditions for rail revival with changes to the Gemeindeverkehrsfinanzierungsgesetz (Municipal Transport Financing Law), he felt work was still needed to review 'outdated conditions of the "Standardised Assessment" for such projects'.
Calling on the government to lower the hurdles for future schemes, APS Managing Director Dirk Flege explained that 'the current evaluation criteria ignore the social aspects of a rail link and take too little account of the environmental benefits of rail'. Nevertheless, 'the reactivation of disused routes represents the comeback of rail in the countryside, offering a more climate-friendly transport mix'.
Supporting documents
Click link to download and view these files
Websites
We are not responsible for the content of external sites