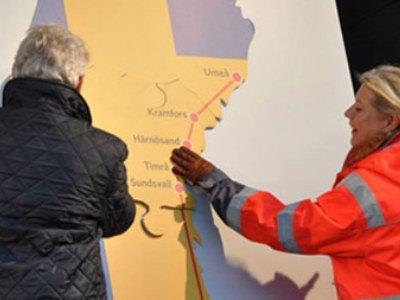 SWEDEN: Minister for Infrastructure Catharina Elmsäter-Svärd officially opened the upgraded Ådalsbanan between Sundsvall and the southern end of the Botniabanan on September 14. The minister marked the event by inserting the last piece in a jigsaw puzzle map of the Stockholm – Umeå route.
During the course of the SKr6·6bn project, infrastructure manager Trafikverket has upgraded 100 km and built 30 km of new railway since construction started in 2003. Scheduled for completion in 2010, the project has been delayed by funding issues and problems with the ETCS Level 2 signalling equipment.
Sleeper services to and from northern Sweden started operating over the line in July, followed by regional services in August, but delays were caused in the first month by interface issues with the signalling. Freight services are now being ramped up, and a new express passenger service between Stockholm and Umeå is expected to start this winter.
Although the upgraded railway has just reopened, Trafikverket is already studying proposals for a new alignment for the section between Sundsvall and Härnösand, because only low speeds are possible on the current sinuous route. While the new sections have been built for 200 km/h and the rest of the line has been upgraded for 150 km/h, the Sundsvall – Hänösand section is limited to a maximum of 100 km/h. This study is due to be published in the autumn of 2013.
The minister inaugurated 18 km of new alignment for the Malmbanan alignment through Kiruna on August 31, as part of a project to move the town to accommodate continued iron ore mining by LKAB.