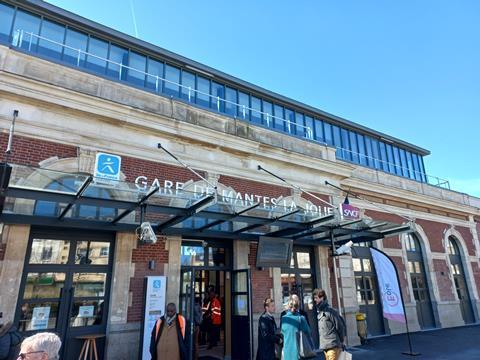 FRANCE: Ile-de-France-Mobilités unveiled the modernised and expanded Mantes-La-Jolie station on April 4, which will be the western terminus of Paris RER Line E.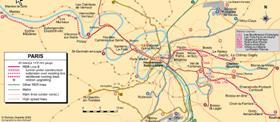 Under a project known as Éole, Line E is currently being extended from Haussmann-Saint-Lazare in the centre to Mantes-La-Jolie, which lies 55 km to the west. The first section will run 8 km on a newly built infrastructure, mostly in tunnel from Haussmann-Saint-Lazare to Nanterre-La-Folie. The second stage comprises the reconstruction of 47 km of existing main line from Nanterre-La-Folie to Mantes-La-Jolie. It will share tracks with Line A between Nanterre-La-Folie and Poissy, as well as with Transilien suburban Line J, and inter-regional trains to and from Normandie.
At the presentation ceremony, Xavier Gruz, Project Director for the RER E extension at SNCF Réseau, told Railway Gazette that tunnelling, tracklaying, and signalling works between Mantes-La-Jolie and Nanterre were nearing completion, with only around 70 m of track still to be worked on.
Work is also at full swing at the three underground Éole stations of Porte Maillot, La Défense and Nanterre-La-Folie.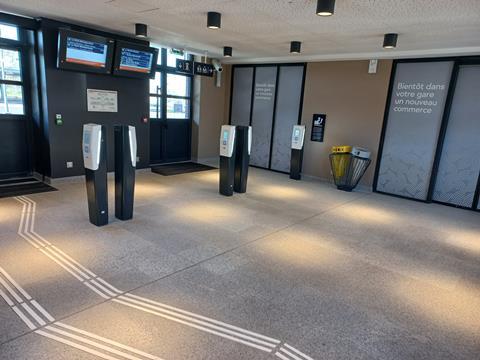 The rebuilt facilities at Mantes-La-Jolie have been comprehensively reworked to handle 10 000 passengers a day instead of the current 6 000, and the station has been made accessible. This package cost €35m.
Limited service next year
The first 8 km section from Haussmann-Saint-Lazare to Nanterre-La-Folie is expected to open in April 2024, operating only from 10.00 to 16.00 daily.
In this initial period, Ile-de-France-Mobilités will carry out passenger-carrying testing of the infrastructure and the RER NG EMUs, being supplied by Alstom. Full service on the first section is scheduled to commence in December 2024. At peak hours, 16 trains/h/dircetion are planned to run between Haussmann-Saint-Lazare and Nanterre-La-Folie.
The opening of the corridor to Mantes-La-Jolie is planned for December 2026. This is planned to be used by six trains/h; these will run only as far as Rosa Parks in the centre of Paris, where two turnback platforms will be built. This will allow operation of 22 trains/h in the peaks between Nanterre-La-Folie and Rosa Parks, which will necessitate commissioning of the NExTEO digital signalling system.
RER NG EMUs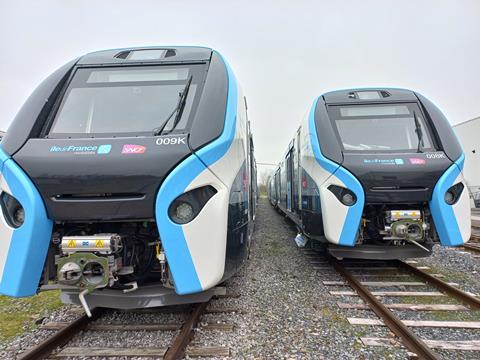 Éole will be operated by 130 six-car RER NG EMUs, supplied by Alstom, of which 56 have been ordered so far. The first trainset was unveiled in November.
The trains have two single-deck driving cars while the four intermediate cars are double-deck. They will have a maximum speed of 140 km/h and be equipped for operation under both 1·5 kV DC and 25 kV 50 Hz catenary. They will be equipped with the legacy KVB train control system, ETCS, and NExTEO.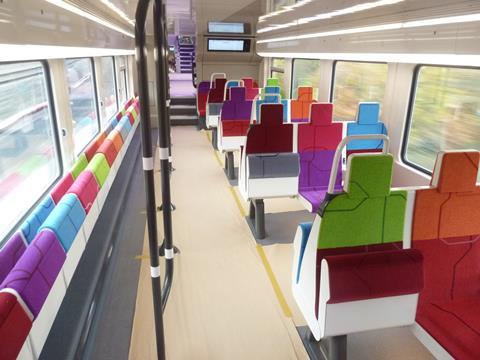 Laurent Probst, General Manager of Ile-de-France-Mobilités, said that the first RER NG EMU will enter service on the operational section of Line E in September.