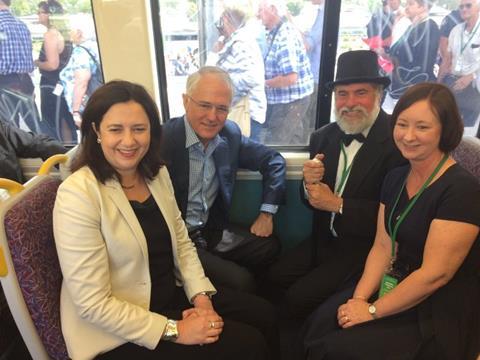 AUSTRALIA: Prime Minister Malcolm Turnbull, Queensland Premier Annastacia Palaszczuk and Moreton Bay Regional Council Mayor Allan Sutherland attended the opening ceremony for the Redcliffe Peninsula Line in Brisbane on October 3. Regular services started the following day.
Known until September as the Moreton Bay Rail Link, the 12·6 km branch of the 1 067 mm gauge Brisbane suburban network runs from Petrie to Kippa-Ring, serving six stations. Queensland Rail runs services every 6 to 12 min in the peaks and every 30 min off-peak.
The line was built by Thiess Contractors under an A$650m contract awarded by Queensland's Department of Transport & Main Roads in August 2013. Test running started in March 2016 after energisation of the 25 kV 50 Hz electrification in January. Opening of the line was delayed for several months pending a review of the new signalling, particularly around the junction at Petrie.
The project was funded through the federal government (A$595m), the Queensland government (A$323m) and the Moreton Bay Regional Council (A$108m). The new line is expected to stimulate urban development and business investment in the northern part of Brisbane, where the population is expected to reach 500 000 over the next 15 years.