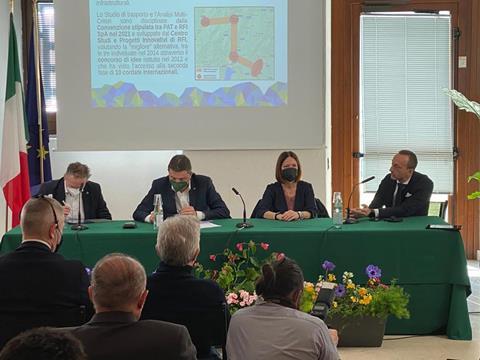 ITALY: An assessment by infrastructure manager RFI commissioned last year by the Trentino-South Tirol region has backed the idea of building a railway from Rovereto to Riva del Garda as 'technically and economically feasible'.
This 25 km corridor would broadly follow the route of a narrow gauge railway between the two towns closed in 1936. Located south of Trento, Rovereto lies on the north-south main line between Italy and Austria via the Brenner pass. According to RFI, 90% of the proposed branch line would run in tunnel between Rovereto and a station at Alto Garda, located just outside Riva del Garda.
The cost of building the line is estimated at €500m. RFI suggests that the new line could be used by up to 35 trains per day in each direction, around half of which would serve destinations beyond Rovereto.
The RFI report was unveiled by Maurizio Fugatti, President of the Trentino-South Tirol region, at a press conference in Riva del Garda on February 25. Given the high volume of tourists to Lake Garda from Germany and Austria, RFI and the region believe the economic case for a direct rail link to the area is strong, and it would be further strengthened by the opening of the Brenner Base Tunnel and its approach routes in 2032-36.