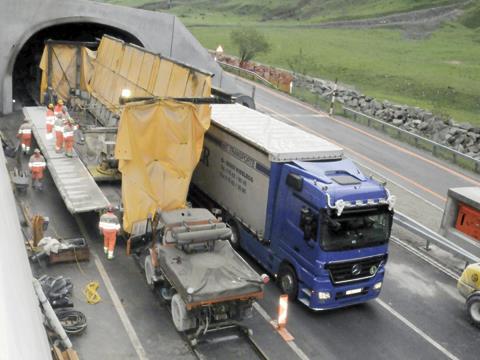 SWITZERLAND: Drivers traversing the A13 between Chur and Bellinzona through the San Bernardino Pass may be surprised to see a standard gauge railway laid along the road, 1600 m above sea level.
Roads department Astra is spending SFr38m upgrading the A13, including work to improve tunnel safety following the fatal fire in the Mont Blanc road tunnel in 1999. This includes relining the 1·2 km Cassana­wald Tunnel by spraying on a 40 mm fireproof mortar coating able to withstand temperatures up to 2000°C.
A major challenge for Luzern-based contractor Marti AG was the need to keep one road lane open, as only traffic in one direction at a time could be diverted via the narrow road over the pass. Marti opted to use rail to access the worksite, laying a track through one side of the tunnel.
The company has leased four wagons from SBB to form a 40 m long work train. A 19 m machine wagon carries the spraying equipment and a second the concrete mixer. The third carries the compressors and the fourth the raw materials. The train is fitted with 4 m high screens to protect the passing traffic from any overspray.
Power is provided - appropriately enough - by a road-rail tractor, which can manoeuvre on and off the track as required. Built in 1971 the Unimog U406 had been used by the Swiss army. Adapted for road-rail operation by Zwiehoff, it has been fitted with a particle filter for tunnel operation. The ageing Unimog must also cope with 3% gradients in the tunnel.