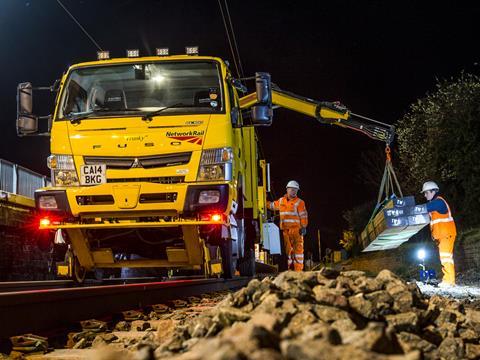 UK: Network Rail has commissioned a fleet of 20 all-wheel drive FUSO Canter trucks adapted for road road-rail use with the addition of hydraulically lowered and raised rail wheels.
The infrastructure manager previously relied on a combination of standard road vehicles and hired-in rail vehicles. The Canters can perform both roles, making maintenance planning easier and reducing the time required to carry out work.
The 4x4 Canter 6C18Ds with four-cylinder 129 kW engines and double crew cabs were supplied by Mercedes-Benz Dealer Euro Commercials and converted by GOS Tool & Engineering. Six have been fitted with dropside bodies and cranes to lift sleepers, rails and bags of ballast, while the remaining 14 have box bodies housing welding equipment for rail repairs.
'These crane vehicles significantly reduce the amount of manual handling of heavy items that for our maintenance crews, making life easier and safer', said Network Rail Project Manager Keith Ubah. 'We'll also benefit from increased efficiencies and reduced operating costs as they are doing a job that was previously assigned to separate road and rail vehicles.'
Network Rail is now designing a series of rail trailers for use with the trucks.