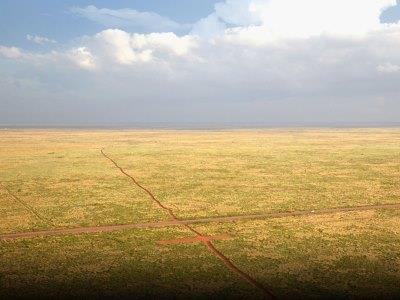 AUSTRALIA: Construction of the proposed 342 km railway to serve the Roy Hill iron ore mine in the Pilbara region of Western Australia is on course for completion by November 2015, following the award of an A$5·9bn contract to Samsung C&T.
Under the deal, South Korea's second largest construction company will be responsible for building the ore processing plant at Roy Hill and a two-berth export terminal at Port Hedland as well as the rail link between the two.
Located approximately 25 km southeast of the Christmas Creek mine operated by Fortescue Metals Group, the Roy Hill project is being promoted by Hancock Prospecting, which holds a 70% stake in the venture. Another 15% is owned by two South Korean companies: steel manufacturer POSCO and shipbuilding group STX. The remaining stakes are held by Marubeni and China Steel Corp. Ore production is expected to begin towards the end of 2015, building up to 55 million tonnes a year. This is similar to the tonnage dispatched by FMG in 2012.
The Roy Hill railway will loop north of the Christmas Creek deposits and run westwards along the south side of the Chichester Range, closely paralleling FMG's existing railway past the Cloudbreak mine. After crossing the range, it will run to the west of the FMG and BHP Iron Ore railways for almost 200 km to reach Port Hedland. Both of these lines have been or are being double-tracked to accommodate increasing ore volumes.
According to the promoters, the Roy Hill mine, railway and port will be largely automated, and managed from a Remote Operations Centre near Perth. The 'independently owned and operated' single-track railway is expected to handle five ore trains per day, each consisting of three locomotives hauling 232 wagons with a total payload of 31 450 tonnes.
Last year an A$151m contract was awarded to Ansaldo STS Australia covering the development and supply of the voice and data communications links, together with the railway interlockings and a train control and protection system using satellite positioning technology.