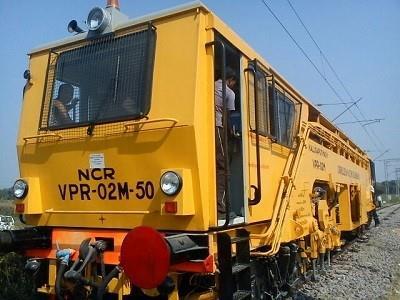 INDIA: Russia's Sinara Transport Machines has begun delivering WorkSite Tampers in semi-knocked down kit form for local assembly in support of the Make in India programme.
The first batch of kits arrived in Chennai on January 12, with a second to follow in early February. STM specialists will support assembly at the San Engineering & Locomotives site in Bengaluru, which will be providing a 50% level of localisation.
The handover of an intial two WSTs to Indian Railways is planned by the end of the year.
Anton Zubikhin, Director General of STM, said the Indian project would significantly expand the company's experience in foreign markets.
'Indian Railways has already been operating STM track maintenance trains for more than 10 years; they are maintained under life-cycle contracts', said Zubikhin. 'Today, our company is focused on expanding its presence in the Indian market. We are planning to develop both industrial assembly and after-sale services in this country. Having proven our worth in this new status of a manufacturer, we will be qualified to expand our portfolio of orders and participate in big tenders.'
Last year STM won a tender to supply and support 19 semi-knocked-down kits for ballast regulating machines. Design is currently underway, with component manufacturing to begin in the first half-year for export in Q3 2021.