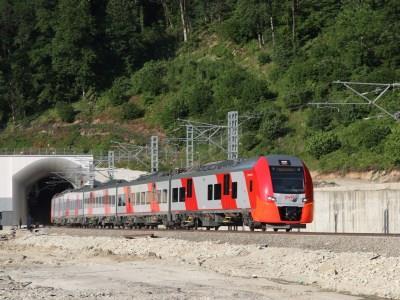 RUSSIA: Russian Railways began test running on the new Adler – Alpika-Servis branch line on June 4, using Siemens-built Lastochka EMU ES1-012 which had been transferred from Metalostroy depot in St Petersburg during April for crew training.
Under construction since 2009, the 48·5 km branch and a parallel road are being built by RZD to serve the 2014 Winter Olympic Games venue at Alpika-Servis in the Caucasus mountains near Sochi.
Diverging from the main line along the Black Sea coast at a triangular junction 3·5 km east of Adler, the line follows the narrow valley of the Mzymta river. Mostly following the east bank, the branch has been laid out for 160 km/h operation, requiring six tunnels with a total length of 10·4 km. The longest bore is 4 055 m, whilst two of the others run for 2 857 m and 2 524 m; these were all excavated using a Lovat RME 232 SE tunnel boring machine.
The branch has intermediate stations at Imeretinsky Kurort and Esto-Sadok, serving the ski-jumping centre, as well as the terminus at Alpika-Servis, which has three 300 m long platforms located at 543 m above sea level. Largely single-track, the line includes a long double-track section near the junction and three intermediate passing loops, as well as a double-track section at the upper end of the route from Esto-Sadok to Alpika-Servis. The branch has been designed to accommodate up to six trains/h each way.
The first 5 km from the junction at Adler to the Beregovaya substation has been electrified at 3 kV DC, and the remainder of the route is wired at 25 kV 50 Hz. This means that the line can only be worked by dual-system trainsets such as the Lastochka EMUs, of which up to 38 five-car sets are expected be deployed around Sochi during the Games period.
Delegates attending this year's 1520 Strategic Business Forum conference in Sochi at the end of May were able to visit the nearly-completed branch, as the event was hosted by RZD at the Krasnaya Polyana ski resort near Alpika-Servis.