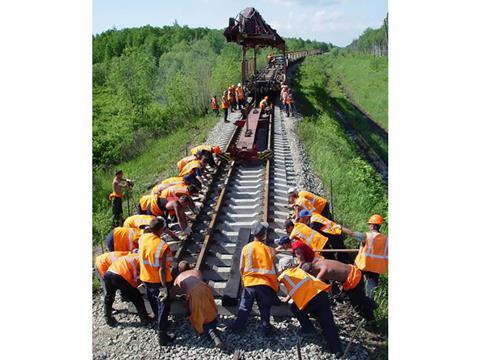 RUSSIA: Russian Railways and the government of Sakhalin have agreed to accelerate the programme to convert the island's rail network from 1 067 mm to 1 520 mm gauge.
The decision to speed up the programme has been spurred by need to replace the life-expired D2 diesel multiple-units built by Fuji Heavy Industries in 1985.
The use of 1 067 mm gauge dates from Japanese rule before World War II. Conversion to Russian broad gauge began in 2003, using sleeper sable to accommodate three rails and providing clearance for larger rolling stock. Before work stalled, 592 km of the 834 km network had been converted.
The three-month summer building season in 2017 will now see major blockades to enable the 630 km Kholmsk – Arsentevka – Nogliki route to be made suitable for broad gauge trains, to be followed in 2018 by the 157 km from Arsentevka to Korsakov.