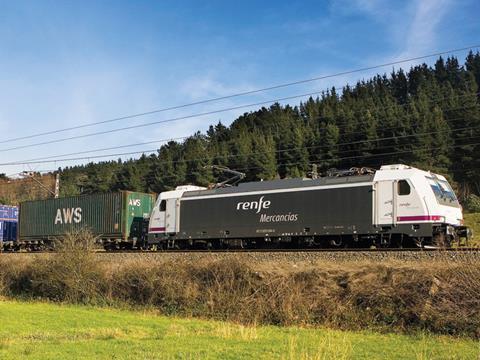 SPAIN: The board of infrastructure manager ADIF has approved the award of a €31∙7m contract for electrification at 25 kV 50 Hz of the 1 668 mm gauge route between Salamanca and Fuentes de Oñoro on the Portuguese border.
Installation of 2 x 25 kV overhead line equipment for operation at speeds up to 200 km/h is to be undertaken by a joint venture of Enclavamientos y Señalización Ferroviarias and Sociedad Española de Montajes Industriales. Work is to be completed within 18 months and includes modifications to signalling and telecommunications systems.
Within a budget of €34∙3m, tenders are to be called for the supply and maintenance of traction substations and autotransformers. Installation work is expected to take 18 months to complete, followed by maintenance over a period of 24 months.
According to ADIF, electrification of the Salamanca – Fuentes de Oñoro route will improve connections with the Portuguese rail network, and should foster an increase in freight traffic on the Atlantic Corridor connecting Lisboa and Sines with France and Germany via Salamanca and Irún.