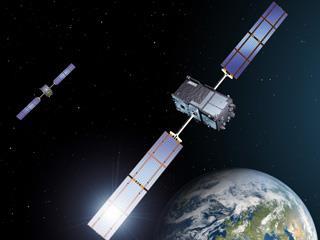 ROMANIA: A European project to demonstrate a satellite-based train control system suitable for low-traffic railways has been launched on the 27 km Brasov - Zarnesti branch line operated by RCCF-Trans.
Although satellite positioning is common in the aviation and maritime sectors, the International Union of Railways says it has not gained a foothold in rail because the positioning functions and operating guarantees have not met the required safety standards.
The 28-month SATLOC project is being co-ordinated by UIC and carried out by 11 organisations including train and infrastructure operators, suppliers and academic partners from six countries.
It aims to provide evidence that Galileo-based positioning and speed determination would be compliant with current train control and traffic management applications, and provide an economic evaluation for its use on lightly-used lines, which UIC says form around 40% of the European network.
The project was formally launched on January 17-18, and is being funded by the European Commission and the European Global Navigation Satellite System Agency within the 7th EU Framework Programme for Research & Development.