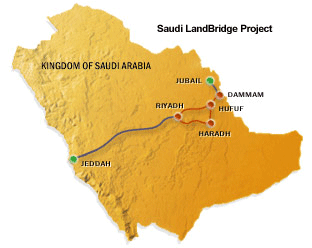 SAUDI ARABIA: The Public Investment Fund has awarded Fluor Corp a 270m riyal contract to provide consultancy services for the Saudi Landbridge project.
Under the 84-month contract Fluor is to review engineering designs for the railway in conjunction with Parsons Brinckerhoff, and will define implementation strategies and be responsible for commissioning.
The Landbridge is a planned 945 km double-track railway linking Jeddah Islamic Port on the Red Sea coast with Riyadh, where it will connect with Saudi Railways Organization's existing 450 km line from Riyadh to King Abdulaziz Port at Dammam on the Gulf coast. A 115 km extension will run from Dammam to connect with the North-South Railway at Jubail.
The main traffic is expected to be containers, with 120 km/h running giving a Gulf to Red Sea journey time of around 18 h. Passenger services are also envisaged.
The government originally hoped that the Landbridge project would be developed through a PPP, but terms could not be agreed with private partners. In October 2011 the Council of Ministers opted to move ahead with the US$7bn scheme as a state project. The project will be led by the Public Investment Fund's Saudi Railways Co, which has been responsible for the North-South Railway.