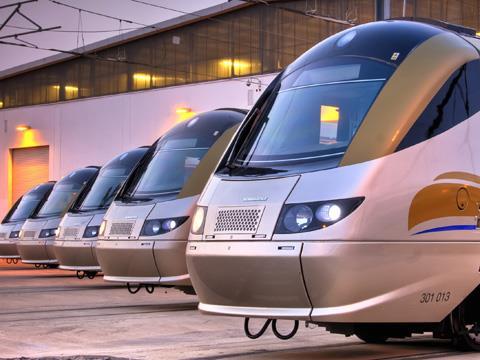 SOUTH AFRICA: The second stage of the Gautrain commuter line was opened on August 2.
The first stage of Gautrain from OR Tambo International Airport to Sandton opened on June 8 2010 in time for the World Cup, and the launch of services between Rosebank in Johannesburg and Hatfield in Tshwane takes the system to 74 km. The final 6 km from Rosebank to Park station in central Johannesburg is expected to open later this year.
Trains run from 5.30 to 20.30, with a basic weekday timetable of a train every 20 min, increasing to every 12 min in the peak, and a half-hourly weekend service. There are connecting buses on weekdays. Ridership is expected to reach 100 000 passengers/day, relieving congested roads between Pretoria and Johannesburg.
Operation and maintenance of Gautrain is being handled by RATP Dev under contract to the Bombela consortium which signed a 15-year design, build and operate concession with the provincial government in 2006.
Eran Gartner, President of Bombardier Transportation's Systems division, said the company is 'very proud' of the project, and hopes it will inspire further upgrades to South Africa's passenger network. 'This is one of the most visionary projects that we have ever been involved in and it has set a new benchmark for delivering complex transport systems while implementing innovative solutions that benefit local communities.'
Opening of the final 6 km to Park is being delayed because tunnel water ingress is exceeding contract specifications, causing Bombela and the province to be concerned about the 'long term viability and integrity of the infrastructure'.
Rectification will include drilling small diameter holes through the tunnel floor and injecting grout into the surrounding rock to reduce permeability and thus the volume of water entering the tunnel drains. Gautrain warned that this 'is an iterative process and it is difficult to predict how long it will take to achieve the desired results', but opening is envisaged by the end of 2011.