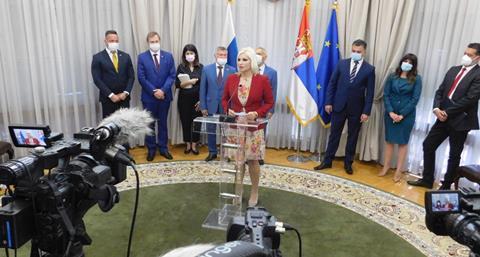 SERBIA: A €21m agreement to develop conceptual designs and prepare documentation for the planned modernisation of the 210 km line from Valjevo to Vrbnica and the border with Montenegro was signed by infrastructure manager Infra ZS and Russian Railways subsidiary RZD International on September 21.
Trains on this section of the route linking Beograd with the Adriatic port of Bar currently average 40 km/h, and the modernisation is intended to support a strategy to carry more freight and passenger traffic. The aim is to increase the average speed of trains on the Serbian section of the corridor to 100 km/h.
The latest agreement is a supplement to a contract signed in January 2019. The Serbian side also expressed interest in RZD International also undertaking design and construction works on the route.
'The reconstruction of the Bar railway is difficult and demanding, as it has 250 tunnels and more than 230 bridges', said Serbian Deputy Prime Minister and Minister of Construction, Transport & Infrastructure Zorana Mihajlovic. 'But I believe that Russian Railways will respond to this task and that we will start work in 2022.'
Opportunities for training Serbian students and engineers in Russia were also discussed.
RZD International has been modernising railways in Serbia since 2014. Work on the the Beograd – Pančevo and 78 km Resnik – Valjevo lines and a bridge over the River Danube has been completed, and work is underway to upgrade the 40 km Stara Pazova – Novi Sad section of the Beograd – Budapest line for 200 km/h operation.
'Together with our Serbian partners, we are taking on the most complex and responsible projects to revive the country's railway infrastructure', said Sergey Pavlov, First Deputy General Director of Russian Railways. 'This process is intensive and gaining momentum every year'.