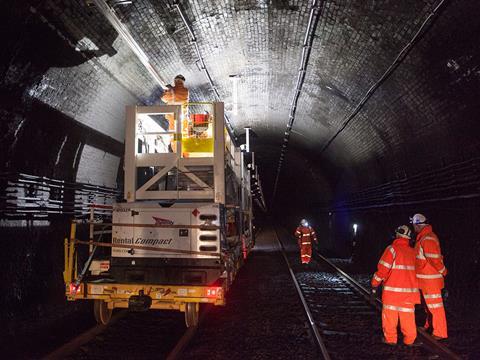 UK: The 7 km Severn Tunnel reopened on October 22 following a six-week closure to install 25 kV 50 Hz electrification equipment.
The project required a total of 18 000 person-days of work. Around 14 km of Furrer+Frey rigid overhead conductor rail was installed, supported by 1 648 drop tubes suspended from the tunnel crown. More than 20 conductor rail anchors and 240 metres of conductor rail were installed in each 10 h shift. The track was also lowered in the nearby Patchway tunnels and underneath Little Stoke Farm bridge.
A compound was established at Filton airfield as the main base for the project, and this obtained 70% of its power from renewable energy including 117 solar panels and 10 wind turbines.
'It has been a phenomenal team effort, involving over 250 engineers and close working with our principal contractors ABC Electrification and Babcock as well as numerous suppliers, designers and sub-contractors including Amco, Keltbray and Arup, to deliver this essential stage of the electrification project', said Dan Tipper, Project Director at infrastructure manager Network Rail.
Network Rail expects to complete electrification of the route between London Paddington and Cardiff by 2019, and to Swansea by the end of Control Period 6 in 2024. Specific dates and costs are yet to be confirmed.