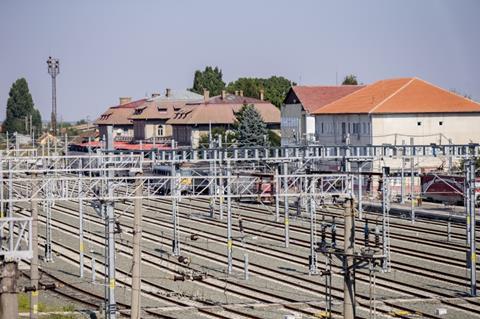 ROMANIA: National railway CFR SA has awarded the Asocierea RailWorks consortium of Alstom, Aktor, Arcada and Euroconstruct a contract to modernise the Sighișoara – Brașov route.
The four-year programme to raise the speed of passenger trains to 160 km/h includes rehabilitation of 170 km of infrastructure, renewal of the electrification with Alstom's OCS3 design, deployment of GSM-R and Atlas 200 ETCS Level 2, and development of a traffic control centre in Brașov.
Consortium leader Alstom has been undertaking railway works on Romanian sections of the TEN-T Rhine-Danube Corridor since 2012, and its share of the latest contract is worth more than €120m.
'This contract reaffirms Alstom's leading position on the Romanian railway market, for both digital train control and electrification', said Gabriel Stanciu, Alstom's Managing Director for Romania, Bulgaria & Moldova on March 5. 'After installing the first modern traffic management system in Romania, we are now ready to extend such high level performance to the new sections.'
București had become a 'strategic hub' for Alstom's train control projects in central and eastern Europe, he added.