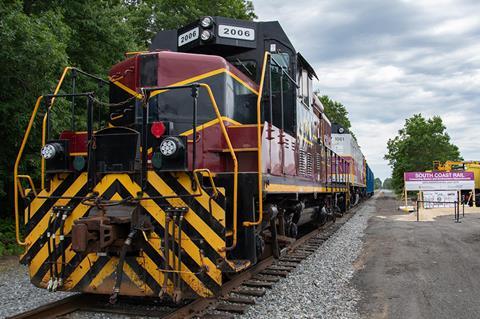 USA: Massachusetts Bay Transportation Authority's Fiscal & Management Control Board has approved the first major construction contract for Phase 1 of the South Coast Rail project to provide commuter services into Boston from the southeast.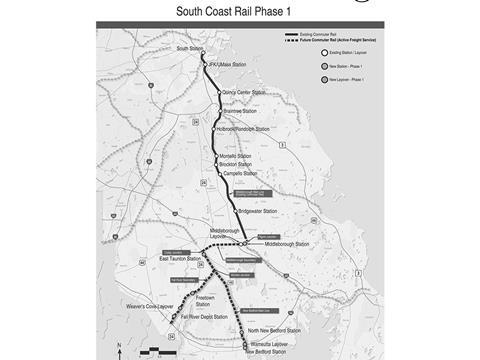 The long-planned $1·047bn project would extend Boston's Middleborough Line services to Taunton, New Bedford and Fall River, the only major cities within 80 km that do not have services to the state capital.
A groundbreaking ceremony was held in July 2019, since when almost $100m has been spent on construction, property acquisitions, vehicle procurement, design and contract management.
The $159m contract which has now been awarded to the Skanska DW White joint venture covers the construction of stations in Freetown and Fall River, a six-siding stabling facility at Weaver's Cove in Fall River, and work on eight over and one under bridges, 10 level crossings, six interlockings, and 10 culverts. It also includes 20 km of track renewals, raising the track in some locations, as well as vibration mitigation and retaining wall construction.
'We're excited to complete this work, establishing commuter rail passenger service to southeastern Massachusetts and bringing a one-seat ride from Taunton, Fall River and New Bedford to Boston in late 2023', said MBTA General Manager Steve Poftak on May 11.
Bids for a $400m contract to undertake similar works the New Bedford/Middleborough Line are to be opened on June 25.
This would include the construction of stations at Middleborough, East Taunton, Church Street (formerly North New Bedford) and New Bedford, a stabling facility in New Bedford as well as work on almost 40 km of track, six over and one under bridges, 11 culverts, level crossings and 12 interlockings.