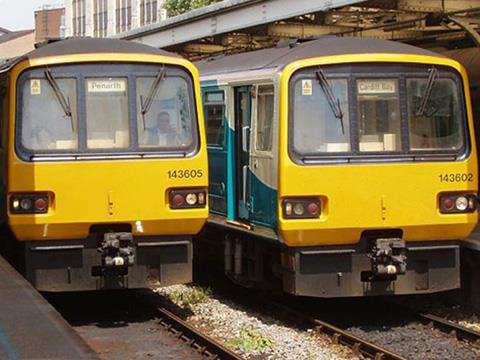 UK: Agreements to fund electrification in south Wales and devolve the award of the next Wales & Borders rail franchise from the Department for Transport to the Welsh government were announced by Prime Minister David Cameron on November 21. This brings to an end a dispute about which government should fund the 25 kV 50 Hz electrification projects.
The UK government has agreed to cover the £105m cost of extending the ongoing Great Western Main Line electrification programme to include the Cardiff – Swansea route. It is also to contribute £125m towards the costs of the Valley Lines electrification scheme, which will be sponsored and delivered by the Welsh government. This aims to reduce journey times on the lines from Cardiff to the Vale of Glamorgan, Maesteg, Treherbert, Aberdare, Merthyr Tydfil, Rhymney and Ebbw Vale, reducing journey times from Merthyr Tydfil and Treherbert to Cardiff to a little over 50 min.
'After years of neglect, this part of Wales will finally get the infrastructure it needs with faster, more modern, more efficient trains and the impact will be huge', said Cameron.
The Welsh government will also award the next Wales & Borders franchise in 2018.
'I am delighted we have been able to come to an agreement', said Wales' First Minister Carwyn Jones. 'This deal will deliver electrification all the way from London to Swansea and enable us to move forward plans to modernise the Valleys Lines at no net cost to the Welsh government. Together with an agreement to fully devolve power over the Welsh rail franchise this will allow the Welsh government to move forward with its ambitious plans to create the efficient and reliable rail service Wales needs and deserves.'