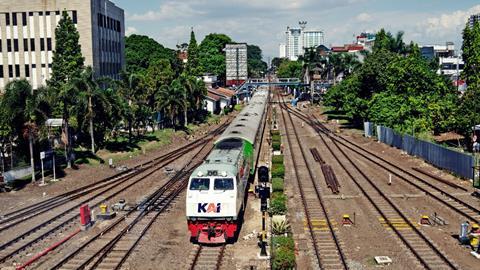 INDONESIA: The completion of double-tracking work on the majority of PT KAI's 1 067 mm gauge southern Java main line was marked by a 'soft launch' ceremony at Solo Balapan on October 8, attended by Transport Minister Budi Karya Sumadi.
Work began in 2015 on upgrading the route linking Cirebon and Surabaya via Purwokerto, Yogyakarta, Solo and Madiun, following completion of double-tracking work on the northern main line across the island.
The route connects three main rail-served conurbations: the Jabodetabek region around Jakarta, the Joglosemar grouping of Yogyakarta, Solo and Semarang, and the Gerbangkertosusilo area centred on Bangkalan, Mojokerto and Surabaya. Double-tracking is expected to raise capacity from 172 to 221 trains per day.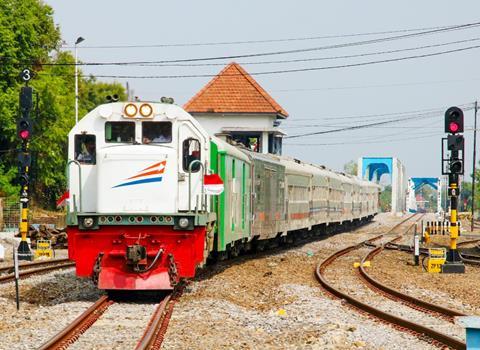 Around 550 km of the 615 km route has been completed, and Sumadi explained that double track now extended from the junction with the northern route at Cirebon as far as Jombang. He expected the remaining 65 km through Mojokerto to Wonokromo in Surabaya to be completed within the next two years.
Including the construction of three new tunnels at Notog, Kebasen and Ijo, between Purwokerto and Yogyakarta, the project has a total budget of Rp10tr. This is largely being funded from the national budget, with the government raising funding the issue of multi-year Sharia sovereign bonds.
Sumadi said doubling of the southern Java network had become a priority project, as the line played a crucial role in supporting the economy and public mobility.
On September 22 the minister marked reopening of the Cianjur – Ciranjang – Cipatat section of the Bogor – Sukabumi – Cianjur – Padalarang line which is being upgraded to encourage modal shift in the southern part of western Java. This project includes double-tracking of the 57 km between Bogor and Sukabumi and the restoration of regular passenger services between Cianjur and the junction with the Jakarta – Bandung main line at Padalarang.