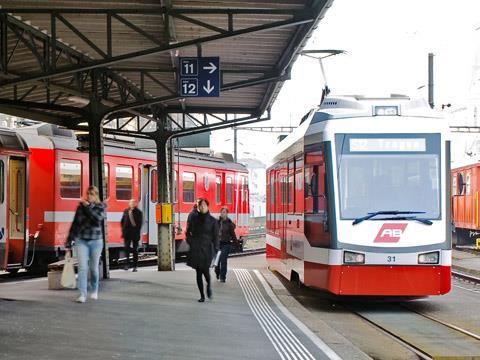 SWITZERLAND: A letter of intent to go ahead with the Durchmesserlinie Appenzell - St Gallen - Trogen project to upgrade and connect the Trogen and Appenzell railways in St Gallen was signed by operator Appenzeller Bahnen and three cantons on September 12.
The metre-gauge lines are both operated by Appenzeller Bahnen, and rebuilding their shared terminus will enable passenger trains to run through. Level crossings will be removed, new or longer passing loops installed, an additional station opened and the 700 m Ruckhalde tunnel built to eliminate a section of rack line.
Appenzeller Bahnen is looking to replace life-expired rolling stock, and the project will enable the use of low-floor vehicles offering better accessibility and rapid boarding.
The aim is to provide four trains/h between Gais and Trogen, in the hope that an attractive cross-town service will encourage modal shift from road and accommodate predicted population growth.
The project is costed at SFr89·9m, with the federal government to provide SFr40·7m and the remainder to be split between the cantons of Appenzell Ausserrhoden (SFr26·3m), Appenzell Innerrhoden (SFr6·7m) and St Gallen (SFr16·3m) The operator will provide SFr64m for the rolling stock.
Subject to final approval, work is expected to begin in late 2014 for completion in 2016.