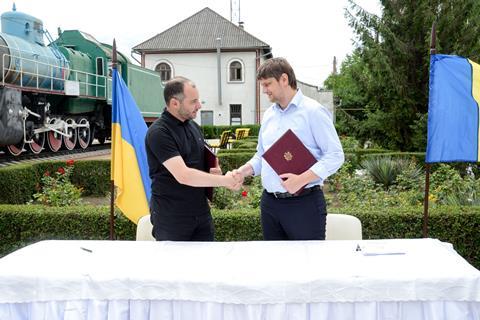 EUROPE: The European Investment Bank's technical advisory service JASPERS has begun a pre-feasibility study looking at the development of 1 435 mm gauge cross-border links to connect the Ukrainian and Moldovan rail networks with the Trans-European Transport Network in the light of the Russian attack on Ukraine.
The European Commission said the break-of-gauge between the 1 435 mm used on the EU sides of the borders and the 1 520 mm broad gauge in Ukraine and Moldova makes freight shipment difficult, but this could be solved by extending standard gauge tracks from Poland and Romania.
The study, which is to be completed by May 2023, is one of the medium to long-term measures set out in European Commission's Solidarity Lanes action plan, and closely linked to its July 2022 proposal to extend the TEN-T network to Ukraine and Moldova.
'We are setting the scene for longer-term solutions, supporting Ukraine in its post-war trade and the reconstruction of the country, aiming, in particular, to remove the interoperability gap at borders', said Transport Commissioner Adina Vălean on October 21.
EIB Vice-President Teresa Czerwińska said modern cross-border links would be 'a strategic investment for sustainable, green economic growth', and would 'benefit the whole world' by improving global food security through the creation of alternatives to the Black Sea shipping routes blockaded by Russia.