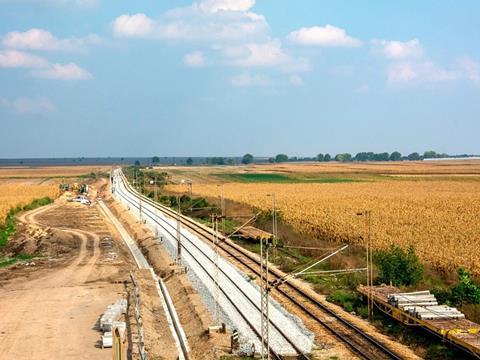 SERBIA: Infrastructure manager Infrastruktura Železnice Srbije and RZD International have signed an agreement releasing further funding for work on the Beograd – Budapest upgrading project.
Signed by IŽS CEO Miroljub Jevtić and RZD International CEO Sergey Pavlov, Annexe 3.2 of the accord allocates funding from a US$800m Russian loan agreed in 2013 towards the upgrading and double-tracking of the 40·4 km Stara Pazova – Novi Sad line. Expected to cost US$247·9m, the upgrading project is scheduled to get underway in the first quarter of 2018.
As part of the double-tracking project, RZD International will build three viaducts and 19 bridges and the 1 100 m long Čortanovci tunnel. A new station will be constructed at Beška, while the existing stations at Sremski Karlovci, Indjija and Petrovaradin are to be modernised.
IŽS had previously signed an agreement covering construction of the tunnel. This is costed at US$350m, of which 75% will be financed from the Russian loan and 15% by the Serbian state budget. Work began on September 18 and the tunnel is due for completion by early 2022.
The remainder of the Russian loan has been used to fund modernisation work on the Beograd – Pančevo line, six sections of trans-European Corridor X and the Serbian part of the Beograd – Bar line, as well as the purchase of 27 DMUs from Metrowagonmash which had all been delivered by the end of 2016.
Read more about the Beograd - Budapest upgrading project in the January 2017 issue of Railway Gazette International, available to subscribers in our digital archive.