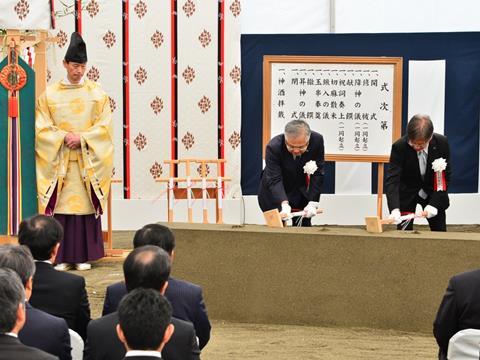 JAPAN: East Japan Railway and the Urban Renaissance Agency marked the start of construction of a new station on the Yamanote Line with a Shinto-style ceremony in Tokyo on February 10. The station will be located between the current Shinagawa and Tamachi stations and will serve the Yamanote Loop Line and the Keihin-Tohoku Line.
Plans call for the station to be opened temporarily in spring 2020 in time for the Tokyo Olympic and Paralympic Games, with full completion due by 2024. It will be the 30th station on the Yamanote Line and will lie at the heart of a ¥59∙2bn land redevelopment project known as 'Global Gateway Shinagawa'. The site covers 14∙7 ha and will include commercial and business premises, housing and roads. The scheme is due to be finished by 2031.
To be built on three levels, the station designed by Kengo Kuma will have two island platforms and four tracks for the Yamanote Loop and Keihin-Tohoku lines.
The start-of-work ceremony was attended by JR East President Tetsuro Tomita and Urban Renaissance Agency President Masahiro Nakajima.