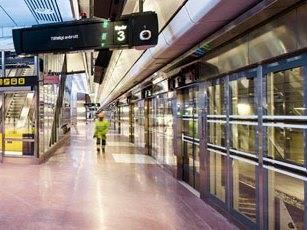 SWEDEN: The 6 km Citybanan cross-city tunnel under Stockholm is to open for revenue service at 05.00 on July 10 2017, national infrastructure manager Trafikverket announced on November 3.
Under construction since 2009, the north-south link is intended to carry the capital's suburban services, doubling rail capacity through the city. This will enable more inter-city, regional passenger and freight trains to use the existing main line through Stockholm Central, including the two-track 'Wasp's Waist' immediately south of the station which is the busiest railway in the country. According to Trafikverket, the Stockholm Pendeltåg commuter services currently account for around 60% of the traffic on this section of line.
Citybanan is being built by Trafikverket in partnership with the city and Stockholm County Council. Running from Stockholms Södra to Tomteboda, it serves two new underground stations at Stockholm City and Odenplan, which will provide interchange to the metro. Odenplan will replace the existing Karlberg station, which will close when the suburban services are diverted into the new tunnel. Also built as part of the project are 1·4 km of new line to the south of the capital and flyovers at Alvsjö and Tomteboda, which will help to segregate the suburban trains from long-distance services.
According to Project Manager Kjell-Åke Averstad, the opening of Citybanan will permit the frequency of suburban services to be increased and improve punctuality. The interchange from the deep-level platforms at Stockholm City to the metro hub at T-Centralen will be much more convenient than the long walk to and from the existing suburban platforms 13-16 on the west side of the main station.