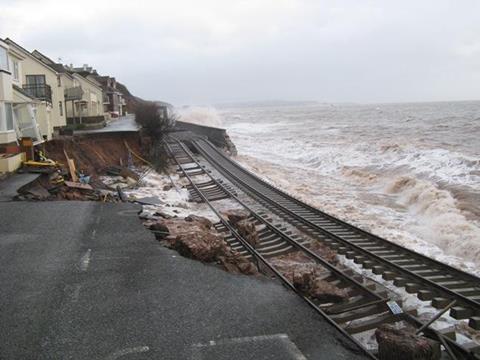 UK: Following the catastrophic destruction of around 100 m of sea wall at Dawlish during an exceptional storm in February, a taskforce has been established to undertake high-level study into ways of protecting the railway between Devon and Cornwall from extreme weather.
The project is being led by infrastructure manager Network Rail, in partnership with the Department for Transport, Environment Agency, train operating companies and local authorities.
The High Level Option Study is to be completed by June 30. It will consider alternative scenarios in the event that the coastal route is not available because of severe weather or maintenance. It will assess three long-term options:
Retaining the coastal route between Exeter and Newton Abbot;
Providing an alternative route, but retaining the coastal line;
Providing an alternative route and abandoning the coastal line.
The study will consider forecast sea level rises, passenger demand, the impact on communities, environmental, social and economic factors, as well as engineering options for strengthening the sea wall. It will draw on a study which is to examine five potential alternatives to the coastal route, including reopening the former LSWR line through Okehampton and Tavistock.
Following consultation with china clay producers and helped by the fire service, engineers are using high pressure water cannon to bring about a controlled landslip and wash away about 20 000 tonnes of cliff face threatening the line near Teignmouth, 2 km west of Dawlish. The main contractor is AMCO. An unmanned aerial vehicle supplied by Aerial Technics has been used to monitor the site, and fixed-wing aircraft are also being used to take LiDAR laser readings to measure the changing condition of the slip slope.