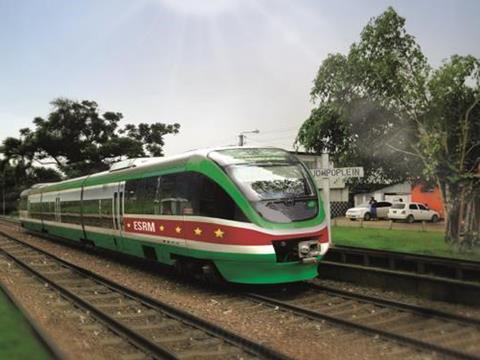 SURINAME: Detailed proposals for a rail link between the capital Paramaribo and Onverwacht were announced by the government on November 5. Strukton Systems has completed a feasibility study and preliminary designs for the project and is a possible construction contractor, although there is no date as yet for the award of a firm contract.
The 29 km line would start at Paramaribo Poelepantje and run south with stations at Latour, Hannaslust, Welgedacht, two in Lelydorp, Bernharddorp and Onverwacht. The end-to-end journey time would be about 30 min, with what Strukton describes as a 'comfortable, fast and frequent' service relieving the most congested road in Suriname, reducing traffic accidents and improving access to healthcare and schools.
A second phase would extend the line to Johan Adolf Pengel International Airport.
The cost of the first phase is estimated at €130m for a double-track line with eight stations, 16 level crossings, a bridge, five diesel multiple-units and staff training. Construction would take up to 12 months, with a further three months needed for running-in trials. Studies into the social benefits of the line are now underway to encourage financial backing for the project from external parties.
Paramaribo was previously served by the metre-gauge Landsspoorweg which ran to Kabel via Zanderij between 1903 and 1987.